Saturday, 12 February 2011
Friday Five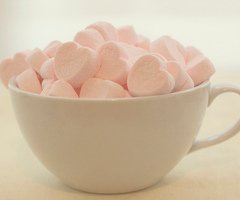 In honour of Valentine's Day I thought I'd make this the love edition. So here's five things I'm loving.
1) Valentine Chocolate. I love chocolate, I love romance. So chocolate in the shape of a heart is kind of my perfect food.
2) Rachel Vail. My friend Joelle recommended her to me. She was actually stunned that not only hadn't I read her, I'd never heard of her. Anyway I am half way through You May and unless things go horribly wrong, I think I can confidently say I have a new favourite author.
3) This Interview by Nic of Irresistible Reads with Cath Crowley. I loved A Little Wanting Song and I can't wait for Graffitti Moon.
4) This Cookie from Sarah Rees Brennan. Noooo Alan!!!, but also oooohhhh Alan and Sin and hair stroking, I like!
5) Books (well obviously) There are so many books I am dying to read at the moment. I need more hours in my day. Top of the list right now – The Invisible Bridge by Julie Orringer, Alanna: The First Adventure by Tamora Pierce, and Delirium by Lauren Oliver
Posted by

Alexa
at 01:08